Mechanical Construction Services (MCS) was founded in 1984 with a mission to provide high quality, competitively priced maintenance services to clients in the electric power generation industry. In the formative years, MCS was essentially a regional organization with clients in Arkansas.
In 1991, a wider vision was established and implemented with expansion into a broader area. Operations have been established in Oklahoma, Mississippi, Texas, Iowa, Kentucky, Illinois, Tennessee, Missouri and Louisiana
Our intention is to provide additional value to all clients through the export of technology and skills developed in each location that are applicable to any or all of the other client locations.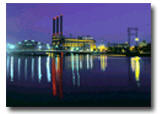 The management of MCS. has a long history in the electric power generation industry which includes project management and implementation experience. This hands on experience and knowledge of day to day operations allows innovative ideas and processes to be identified and implemented quickly. In addition, this substantial experience is applied to project planning and execution processes resulting in cost savings to our clients. This high quality and cost effective completion of projects allows clients to improve their competitiveness in their industry.
MCS management has been involved in many significant projects during their professional careers. Following is a brief overview of some of those projects:
Constructions of 14 large fossil fueled electric power generation plants ranging in size from 450 MW to

750

MW.
Management of maintenance overhauls at 23 electric power generation stations with craft labor work forces up to 350 personnel.
Technical inspection of boilers and associated equipment, assessment of equipment condition, recommendation of appropriate repairs and preparation of inspection reports.